The Mountain Meadows Association (MMA) is a non-profit, volunteer organization that works to identify, remember, and honor those killed in the Mountain Meadows Massacre of 1857. Our goal is to protect and preserve the graves of the victims, and the surrounding Mountain Meadows area, and to remember those who were killed in deference to the wishes of the descendant families.

In June 2011, the Mountain Meadows Site was designated as a
National Historic Landmark



Membership is open to everyone! Our members are from both sides of the event, and have come together with forgiveness, fellowship, and understanding. We are the original Mountain Meadows Massacre organization; by far the largest, and longest established organization in existence today.




Genealogy
We welcome descendants, historians, and anyone with an interest in the history of the Massacre and/or the preservation of the Mountain Meadows site. The majority of our membership is comprised of descendants of the victims.



DIRECTIONS AND
VISITOR INFORMATION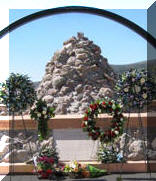 YOUR ASSISTANCE IS NEEDED!

PLEASE
JOIN THE MMA
OR MAKE A DONATION!

Funds are used for maintenance and other
projects associated with the monuments,
as well as the surrounding land.
The Mountain Meadows Association (MMA) also acts as a resource for research, and provides historical data and genealogical information about all of those who died at Mountain Meadows, and promotes inquiry, discussion, and dissemination of accurate information about the event.

Leave Flowers for the Victims
At the MMA's Virtual Gravesite
At Find-A-Grave