In September 1955, an historic monument was
erected in the town square of Harrison, Arkansas
to commemorate the local families who died.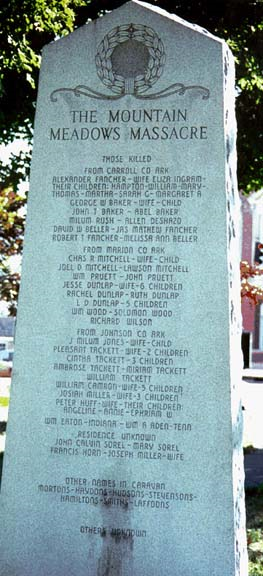 John Kenner Fancher, Sr. was responsible for the
planning of this monument in Harrison, Arkansas,
for The Richard Fancher Society of America.
It was dedicated on September 4, 1955.
The monument reflected the best information available
in 1955, but the information is not entirely accurate.
THE MOUNTAIN
MEADOWS MASSACRE

Those Killed

From Carroll Co. Ark.
Alexander Fancher *– wife Eliza Ingrum
Their Children: Hampton – William - Mary-
Thomas – Martha – Sarah C. – Margaret A.
George W. Baker – Wife – Child
John T. Baker – Abel Baker
Millium Rush – Allen DeShazo
David W. Beller – Jas Mathew Fancher
Robert T. Fancher – Melissa Ann Beller
From Marion Co. Ark.
Chas. R. Mitchell – Wife – Child
Joel D. Mitchell – Lawson Mitchell
Wm. Pruett – John Pruett
Jesse Dunlap – Wife – 6 Children
Rachel Dunlap – Ruth Dunlap
L.D. Dunlap – 5 Children
Wm. Wood – Solomon Wood
Richard Wilson

From Johnson Co. Ark.
J. Milum Jones – Wife – Child
Pleasant Tackett – Wife – 2 Children
Cintha Tackett – 3 Children
Ambrose Tackett – Miriam Tackett
William Tackett
William Cameron – Wife – 3 Children
Josiah Miller – Wife – 3 Children
Peter Huff – Wife – Their Children:
Angeline – Annie – Ephraim W.

Wm Eaton – Indiana – Wm A Aden – Tenn
Residence Unknown
John Calvin Sorel – Mary Sorel
Francis Horn – Joseph Miller – Wife
Other Names in Caravan
Mortons – Haydons – Hudsons – Stevensons
Hamiltons – Smiths – Lafoons
Others Unknown
* Although Captain Alexander Fancher had relatives in Carroll County, Arkansas, he was living in Benton County, Arkansas and began his fateful journey to California from Benton County. The Huff Family (not listed on the Monument), was also from Benton County, Arkansas. CURRENT LIST OF THE VICTIMS.