MMA December 2007 Newsletter Detailing the MMA's 150th Anniversary Events
MMA Memorial Service Slide Show


MOUNTAIN MEADOWS ASSOCIATION'S MEMORIAL SERVICE
AT MOUNTAIN MEADOWS, UTAH
Saturday, September 8, 2007
THE 150th ANNIVERSARY OF THE 1857 MOUNTAIN MEADOWS MASSACRE
We are told in the scriptures that God is love, and love does not belong to any particular denomination.
We are living proof of that today.
(Welcome Message from Terry Fancher, President of the MMA.)





The MMA's Memorial Program began on Saturday
morning with Piper Amber Biggs and the mournful
wail of the Prelude, Amazing Grace, as she slowly
walked along the path from the parking lot to the
1999 Grave Site Monument.

Amber closed the Memorial Program with the
Postlude, Highland Cathedral.

Play: Amazing Grace
Play: Highland Cathedral



.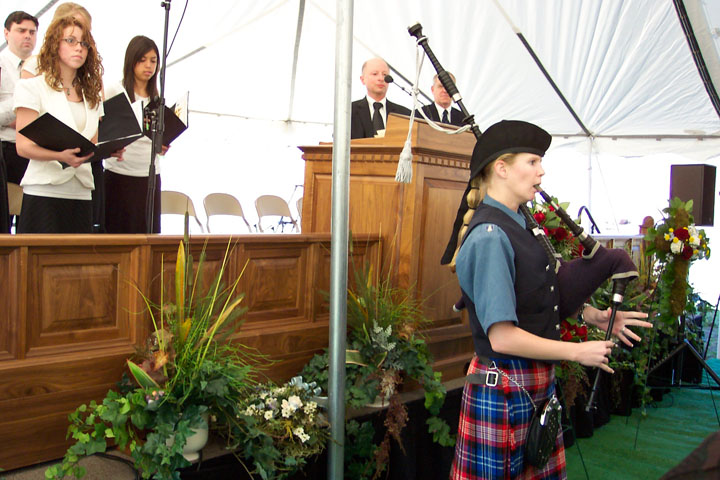 Upon the arrival of the Piper, the Inspiration Choir, led by Director Jeff Elsworth, continued the opening of the
MMA memorial service with a beautiful, and moving, arrangement of Amazing Grace.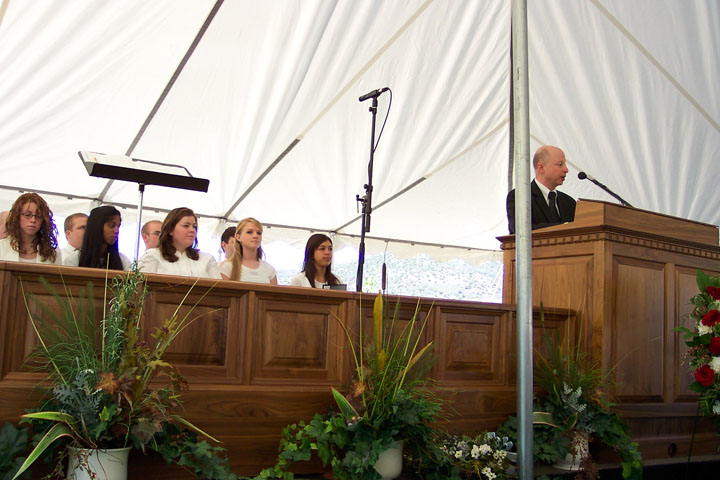 Terry Fancher, President of the MMA, welcomed the audience to the MMA Memorial Service, remembering and
honoring those that died 150 years ago in the 1857 Mountain Meadows Massacre.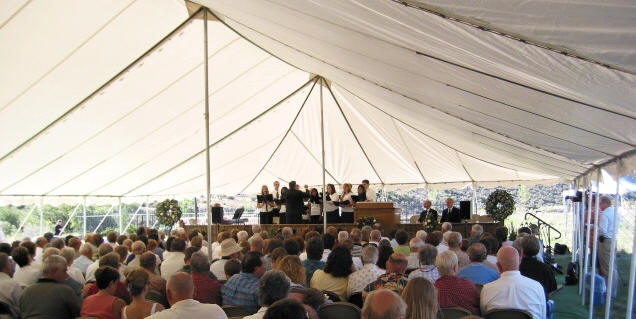 The Inspiration Choir performed four traditional hymns during the MMA Memorial Service.
Play: Rock of Ages Play: Nearer My God To Thee Play: Abide With Me Play: How Great Thou Art
These are not recordings made during the service.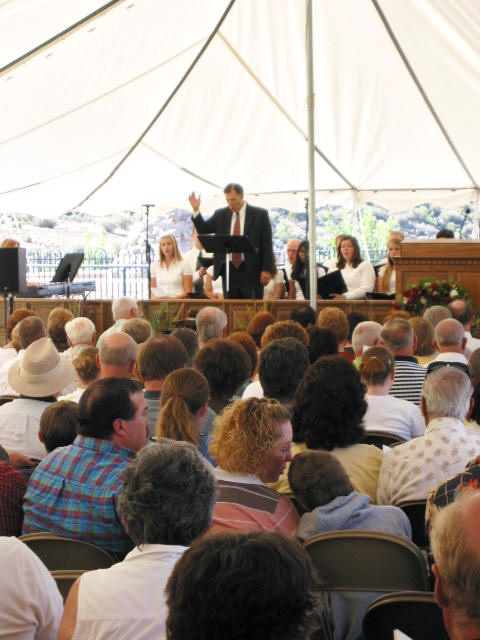 Choir Director Jeff Elsworth leads the audience in a hymn.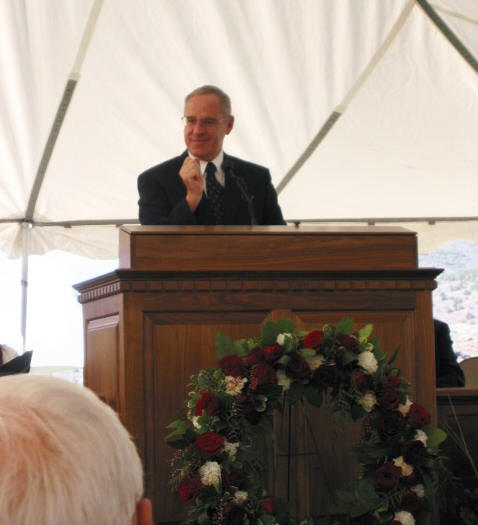 Rev. Buddy Herrington of the Shepherd of the Hills United Methodist Church
Delivers the Inspirational Message at the MMA Memorial Service.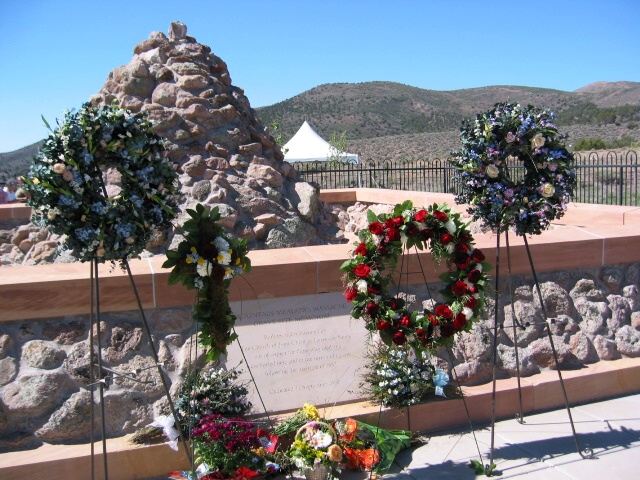 MMA President Terry Fancher read the names of the victims of the Mountain Meadows Massacre, then
the Inspiration Choir sang the hymn Abide With Me as the flowers were placed at the Grave Site in
memory of the victims. Play: Abide With Me

After the Memorial Service, the Blue Sage Trio performed traditional western folk songs that filled
the Meadows with music. Listen to Blue Sage perform: Bury Me Not On The Lone Prairie, Colorado Trail,
Ashoken Farewell, When You and I Were Young Maggie, Fiddle Medley. Listen to more songs, or buy
the Blue Sage Trio's CD "Live At The Junction Theatre" at http://cdbaby.com/cd/bluesageband.
To learn more about the Blue Sage Trio, visit their website.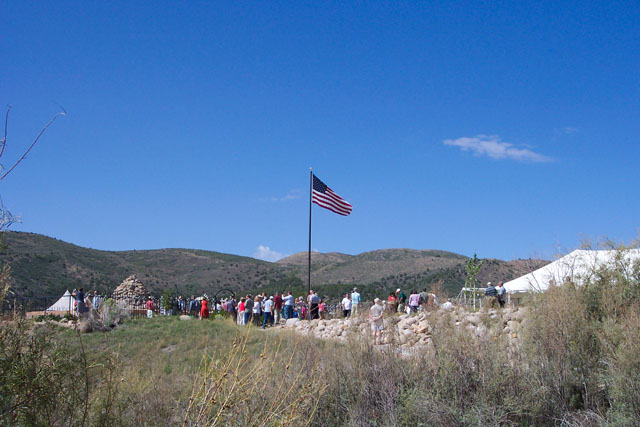 Music floats over the Meadows, as people gather near the Grave Site Memorial after the service.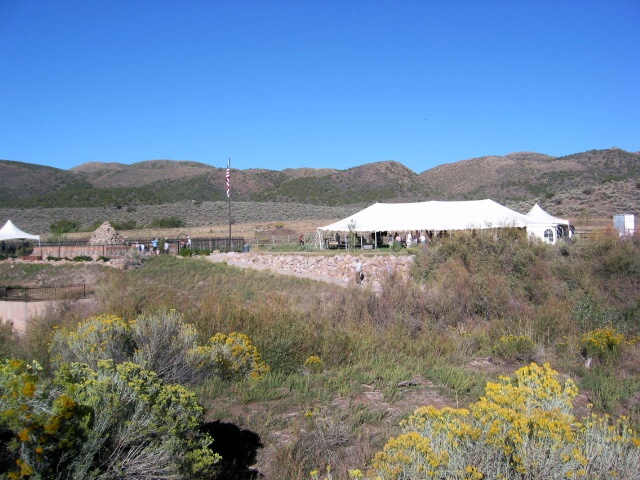 View of the 1999 Monument and the tent where the MMA Memorial Service was held.
© 1998-2014 Mountain Meadows Association. All rights reserved.